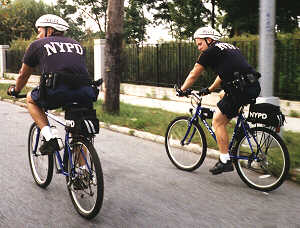 Published: October 21, 2010


The New York Police Department plans to step up enforcement of bicycle safety in parts of the city that have seen a disproportionately higher rate of collisions involving bicyclists, city officials said Thursday.

The initiative, which would be aimed at common cycling infractions like running red lights or riding on the sidewalk, comes after numerous complaints about two-wheeled scofflaws and recent protests against new bicycle lanes added to streets in Brooklyn and downtown Manhattan.

"We've installed 250 miles of lane over the last four years and thousands of new bike racks,"

Janette Sadik-Khan

, the city's transportation commissioner, said at a news conference. "We have been friendly to cyclists. Now it's time for cyclists to be friendlier to the city."

Ms. Sadik-Khan, a cyclist herself, has led the Bloomberg administration's efforts to siphon off city road space from automobiles in favor of pedestrians and bicyclists, an effort that officials say creates a more balanced use of the city's streets. Critics charge that City Hall has placed a stigma on car ownership and unilaterally removed traffic lanes for the use of a small minority of residents.

The result has been that bicycling, once a niche, even antiauthoritarian, mode of transport, has entered the New York mainstream, and cyclists and pedestrians alike are trying to adjust.

The city has issued 26,000 moving violations against cyclists so far this year, still a fraction of the 800,000 violations issued against motor vehicles, said Paul J. Browne, the Police Department's chief spokesman. But on the Upper East Side, Mr. Browne said, the most frequent complaints heard from residents had to do with bicyclists.

"You are having more incidents where pedestrians are getting seriously injured, or close calls, even if it's in a bike lane," Mr. Browne said. "It is probably increasing because bicycle use is increasing. I would think that's part of it."

Running red lights is one of the more frequent problems, Mr. Browne said, and police officials acknowledge it can be difficult to enforce these rules.

"It's not always easy to do," said Raymond W. Kelly, the police commissioner, who joined Ms. Sadik-Khan to announce the initiative. "Bicyclists move along at a very good clip. Particularly when a police officer is by himself or herself, it's difficult to do."

The announcement came hours after a morning of dueling demonstrations along Prospect Park West in Brooklyn, where there has been a neighborhood uproar about that boulevard's newly installed bicycle lane. Some of the aggrieved believe the lane has created more congestion, while supporters say it has calmed traffic and made the street safer. Supporters outnumbered the opponents roughly three to one.

Ms. Sadik-Khan said the city had found that the lane cut down on speeding cars. The commissioner was asked by a reporter about protest signs that warned New Yorkers, "Don't be conned by Sadik-Khan."

"Lot of marketing talent there in Prospect Park," Ms. Sadik-Khan said.

Opponents of the bike lane, however, argue that their quality of life has suffered. "Things have come to a critical pass," said Lois Carswell, one of the protest organizers. City officials, she said, "have already declared it a success" before any formal review could be completed.